Come and enjoy the clean clear waters of Lembongan. It's time for you to kick back and relax at the Rocky Beach Club for you and/or your family. Choose one of the activities or enjoy them all with Rocky SUP Lembongan. All activities at Rocky Beach Club and Rocky Fast Cruise transfer are insuranced.
ACTIVITIES
•SUP  •GLASS BOTTOM BOAT  •JET SKI  •SURFERBOARD RENTAL  •FISHING/SPEAR FISHING  •MANTA RAY SWIM  •BANANA BOAT  •MANGROVE TOUR  •SCUBA DIVE  •SNORKELING  •PONTOON SWIM
Rocky Beach Club
Let's us make your holiday in Lembongan island as a memorable day ever. Enjoy the water activities such as: all pontoon activity, snorkeling, banana/donut boat, beach club activity, beach club entertainment, glass-bottom boat, island tour, and delicious lunch buffet ala carte as well. Depart from Serangan Harbour at 8.30 – 9.00 to Lembongan island and back in the afternoon to your hotel in Bali island.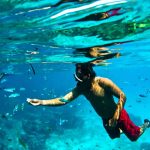 Full Day Package Rp. 1.500.000,- Special price for children under 12 yo. Rp. 1.000.000,-
All includes : (1) Marine walk / jet ski. (2) Pontoon activity. (3) One time snorkeling with equipment. (Pontoon). (4) Banana boat or Donut. (5) Beach club activity. (6) Lunch (buffet lunch / Ala Carte). (6) Beach club entertainment (traditional dance and cock fighting). (7) Glass bottom boat. (8) Island Tour (Yellow Bridge, Dream Beach, Devil Tears, Panorama Point).
Departure time start at 8.30 – 9 am from Serangan Harbor. Book this …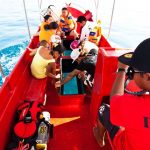 Half Board Package Rp. 1.300.000,-  Special price for children under 12 yo. Rp. 1.000.000,-
All includes : (1) Pontoon activity. (2) One time snorkeling with equipment (Pontoon). (3) Banana boat or Donut. (4) Beach club activity. (5) Lunch (buffet lunch / Ala Carte). (6) Beach club entertainment (traditional dance and cock fighting). (7) Glass bottom boat. (8) Island Tour (Yellow Bridge, Dream Beach, Devil Tears, Panorama Point).
Departure time 8.30 – 9.00 am from Serangan Harbour. Book this …
_____________
Rocky Fast Boat
Denpasar Office:
Jl. Raya Bypass Ngurah Rai No. 620 (a building between Panorama destination and Gas Station) Sesetan, Denpasar Selatan
Tel. +62 361 448 2830 and +62 361 448 2838
Mobile: +62 85 338 866 899
Lembongan Office:
Tel.: +62 366 5596 383
Mobile: +62 821 440 409 28 and +62 811 389 507
reservations@rockyfastcruise.com
www.rockyfastcruise.com
www.rocky.website
www.rockybeach.club